A Tale of Two Fisho's
Fishing Trip of a Lifetime
Barra Base
Bathurst Island, Northen Territory
18-25 October, 1997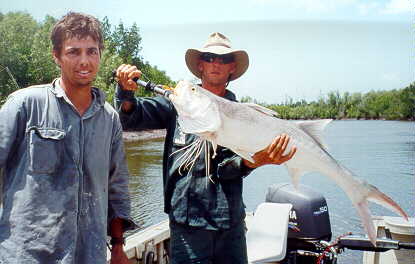 Mick (our guide) and me. Mick is holding my best fish of the trip, a 20lb threadfin salmon caught on 10lb line.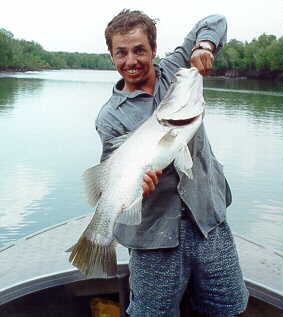 Me with my best ever barra, a 20lb specimen again on 10lb line.
18th October
Just after a fantastic brunch at Cullen Bay, a short cab ride took me out to Darwin airport to meet up with Simon for a couple of cold beers and a game of pool prior to our trip to Bathurst Island. Flying out in the Piper Chieftain was a pleasant experience, having the copilot's seat was even better. Twenty five minutes later we landed on the relatively short dirt strip (at least the croc-invested creek at the end of the strip appeared to be getting very close very quick to me...) and quickly unpacked our gear and climbed aboard these 4.5m speed boats for a 10 minute ride to Barra Base fishing lodge. Full of anticipation, we sorted out our equipment and could only dream about the fishing ahead. As we nervously tried to sleep that night with not a television in sight, we were not to be disappointed....
19th October
Up at 6:30am, a cup of coffee and beaut hot breakfast prepared by our chef Chris (and a fine cook she was), then into the boats we went. Our guide for the day was Mick, chief shit-stirrer around Barra Base - renowned for his practical jokes and general trouble making. Our strikingly attractive hostess Claire was still brewing over Mick's latest trick of laying clumps of flour on the blades of her ceiling fan when it was stopped. Imagine the mess when Claire switched it on at 2 in the morning.... jeez Mick, you're braver than I.
Anyway Mick headed us off to a beaut little eddy at a place called Blackie's. The tides were still big, being just after the full moon and clean water was hard to find. Two feeder creeks poured out their contents on the outgoing tide, and in between the mouths of these creeks was a backwater area where the barramundi stop for a look on their way out. Simon kicked off our fishing trip with a beautiful 6lb specimen. Five minutes later, Mick spotted a larger fish cruising close to the boat between us and the shore. My lure was at the boat, whereas Simon had just cast out, so I was fortunate enough to get first cast at the beast. A well placed Cotton Cordell fizzer just in front of the fish, and a couple of tweaks on the line to get the lure swimming enticingly in front of the fish's nose saw him slurp it down, much to my satisfaction. The first burst off on a powerful run, peeling 10lb spiderwire line from my Shimano Calcutta 50 and headed straight for a neighboring boat containing two fly fishers from Tasmania. Imagine their surprise when they looked over the side only to see my fish jump straight in front of them. A few minutes of see-sawing battle ensued with me winning line, then the fish winning it back. Finally, exhausted the fish lay next to the boat where we netted, unhooked, photographed then released my first salt water barramundi. The fish went 7lbs, turned out to be the third largest barra I caught during the week, and had me in front of Simon for biggest barra already! Truly the stuff of dreams! We hooked and lost a couple more barra at Blackie's, then with the tide falling, headed back in to Port Hurd for a cast at the gutters in front of a couple of the creeks close to the lodge. Here I managed a small shark on the fizzer, fingermark (or golden snapper) on a deep diving gold bomber (later to prove to be the lure of the trip), and also on the fizzer 3 more barra, 2 black bream, and a small GT (Giant Trevally). Lure of the day went to the fizzer - and to think I had never caught a fish on it before that day.
Mick did well, and put us on to a host of fish. I certainly couldn't complain with 10 fish for the day on lures, including 4 barras. Fingermark were a new species for me, as was the shark on a lure. I had caught a couple of barra in fresh water before, but these were my first in the salt, and they definitely go harder!
20th October
Another early start saw us head quite a way out of Port Heard to Gullala with Geoff our guide for the day. Geoff is manager at Barra Base and with 8 years experience is considered the top of his field in guiding around the area. This was to prove to our advantage on the day, with a wide variety of fishing experiences.
Before entering the estuary system, we stopped in the blue water for a cast at some big oyster covered rocks. First cast of the day saw my tiny popper engulfed by a 2lb GT, giving me a hell of a time on 10lb string. It was only through the non-stretch characteristics of the spider wire that I managed to keep him out of the rocks. While out at the rocks I also managed to land a smaller GT, a couple of queenfish, and a small barracuda. Much bigger fish engulfed the poor popper, however fortunately the hooks straightened out before they were able to make it to cover and bust me off.
Heading up into the creeks, I encountered a couple of overly aggressive archer fish. These strange looking prehistoric fish spit water at insects in overhanging trees to knock them off the branches for eating, however they were also more than happy to attack lures much bigger than themselves. The fishing slowed a little, then we came across a "jack snag". This is a fisherman's dream. Basically it's a sunken tree with lots and lots of hungry Mangrove Jack's (a type of fish) hanging around it. There are often other predators there as well. My casting prowess deserted me, and I put my first two casts into the sticks. Simon gave me no mercy and boated three or four fish while I was trying to de-snag my lure. Eventually I gave up in disgust and snapped the line, leaving the lure in the tree to be retrieved later while I quickly tied on a new lure to get into the hot fishing action. Tying on a blue rapala, I quickly landed two barra, a small mangrove jack, a small fingermark and an unusual catch on a lure, a batfish. The fishing slowed a little, and we dropped some baits over the side only to land a bunch more big mangrove jacks. It was simply a matter of leaving four feet of line off the end of your rod tip, dropping it over the side and then hanging on and hoping he didn't get back into the trees! Holy shit was the way to describe it!
Moving along, I landed three more jack's in that creek, two on the rapala and one on a shallow diving two-hook gold bomber (one of the best lures on the planet). We stopped for a few minutes for a rest while the tide was slack, then pulled up next to some rocks on the incoming tide where I managed four barra's and a cod in around 15 minutes, all on the gold bomber. Simon also got into a few barra and dropped a couple of threadfin salmon as well. We were finding the salmon very hard to stay attached to. With the tide rapidly flooding, we bid farewell to Gullula, very impressed with the fishing there and sped back to the lodge for a late lunch.
After lunch (actually around 4:30pm) we headed out to Helvetius, a blue-water area on the north-west side of Bathurst Island for a spot of trolling. It wasn't long before I had three small Spanish mackerel, and later an oceanic queenfish (a species usually found well offshore). With darkness approaching, we headed back to camp, running out of fuel along the way. Fortunately a water-bottle made into a funnel helped us get the fuel into the boat in rocking conditions.
What a day, 24 fish on lures (6 barra) plus a bunch more on bait. Geoff really knows his stuff and puts in a full day for the clients.
21st October
Our guide for the day was Osca (actually his name is Gary and his nickname is Osca, derived somehow from on-site copper). Osca took us back out to Helvetius for the start of the day were I tackled a couple of barracuda and also managed 1 and a half wolf herring. Whatever ate the other half must have been viscious! Also thrown in for variety was another small Spanish mackerel. Simon won the morning though, with a splendid 25lb Giant Trevally. This was a horse of a fish that took around 25 minutes to land. After he hooked it and I started winding my lure in, two more fish the size of car doors followed it right to the boat. In a way I'm kind of glad I didn't hook one, or I may have lost all my line. They were massive fish.
Later that afternoon, we hit another magic spot. In a small gutter in a creek not far from the airstrip I managed 5 barramundi, a fingermark and a catfish all on the gold bomber. For trolling I then switched to a Mad Mullet lure in the bleeding mullet colour pattern. I didn't pick up anything on the troll, but after we stopped to cast again I did manage this nice barramundi (around 4 lb) and a small bream. Look carefully and you'll notice some puncture marks in the side of the barra. These were made by a crocodile, obviously a day or so before I caught the fish. He was clearly a lucky fish to escape the jaws of the croc, so I did my part by releasing him as well! Later in the day I switched to a fluro terminator (like a Nils Master spearhead) and caught a flathead and another beaut fingermark.
Tally for the day was 15 and a half fish on lures, including 6 barra.
22nd October
Ron, flown out the night before from Darwin was the guide for the day. Initially we bait-fished the jewie reef where I did manage my first jewfish (a tiny specimen) as a first fish on my Shimano Calcutta 700. Here I also hooked into a couple of big whaler sharks and this photo shows line peeling from the reel in one of their blistering runs. Both sharks eventually broke me off, but not before a few spectacular jumps.
Soon we headed off to a couple of fishy looking snags and we quickly got stuck into the fish. I plucked three barra in quick succession (around 1, 2, and 3lb), then broke my run with a lousy catfish.
We headed deeper into the creeks, and the fishing slowed a little. About this time, the heavens smiled on me for one of the magic moments of the trip. We had been casting furiously at the snags for no result when Simon decided he wanted to troll for a while. I much prefer casting at the snags as I think it requires more skill. Anyway we spudded for it, and he won (scissors beats paper - I thought he was going for rock). I had one last cast at the sticks with my deep diving gold bomber and worked the lure all the way back to the boat. As the lure rose from the depths and reached the surface about a foot from the boat, this great hulk of a barra surfaced behind it, opened his mouth and with a large bucket-like chomp sucked in my lure right in front of my feet. This was a big fish, I was shaking, and after she felt the sting of the hooks she powered off down the river. Fortunately for me she stayed in the open water and put on a spectacular ariel display as she tried to shake the hooks free whilst jumping completely out of the water. I say "she" because almost all barra are born male and later in life change into females (though I'll never know why)... I finally landed the fish after a few minutes (it seemed like hours). This was our biggest barra of the trip and though we didn't have scales, the fish was 107cm long, and we estimated it's weight (conservatively) at 20lb. This fish is featured at the top of this page.
To put icing on the cake that afternoon I landed another small barra then late at night caught a beautiful 2 and a half pound barra right in front of the fishing lodge on 1kg line. This was a spectacular capture given that I used no trace of any kind - I had just tied the small minnow lure straight to the one kilo line!
While this day was a little slower than previous, the quality of the fish was good and one of my dreams had been realised with that magnificent bucket mouthed barra. Catching the smaller barra on 1kg line was also something I'll never forget. Total for the day was 7 fish on lures, of which 6 were barra.
23rd October
Today we were guided by Bwana John, a young and relatively new guide to Barra Base. John hails originally from South Africa and told us tails of his old job as a member of an anti-poaching team. It sounded like John spent more time getting shot at than anything else to me! This day the fishing was a little tougher, though we started well in the morning on a gold bomber with couple of 2lb barra, a catfish and this small blue salmon.
We worked our way through the local creeks for a couple of steelback salmon and a larger blue salmon which broke my line as we were trying to unhook it, causing the loss of my favourite shallow-diving gold bomber. Oh well, that's fishing! Fortunately I still had two spare gold bombers - you can never have enough gold bombers - that's what I always say. As Simon would put it - "If you can't catch it on a gold bomber, it's not going to be caught!"
In the afternoon we fished Porakari Creek (I think that's how you spell it) where Simon outfished me completely. The only decent fish I hooked was trolling a fluro spearhead and I got blistered into the trees and snapped off by a monster in quick time. Talk about a story though, two days later John is back in that same creek and finds tangled in the trees half a huge threadfin salmon with my lure still in it!!!! The crabs had eaten the other half of the fish, which must have died after becoming entangled in the trees at high tide.
That night I brought out the 1kg gear again (this time with a leader) and landed another nice barra in front of the lodge. They were hanging at the edge of the lighted area feeding on small fish and prawns, and it took a delicate presentation in order to entice a strike.
The day's total finished at 8 fish (3 barra).
24th October
This was a shit-hot day for fishing, no two ways about it. We started out early in the morning and headed up to Dudwell. This is a one and a half hour boat ride, but for us at least it was well worth the effort...
We were once again teamed with Mick the master shit-stirrer. Mick put us straight on to fish at these big snags in the middle of the wide sandy entrance to the estuary system. Using a blue deep diving mad mullet on a couple of these snags I managed 4 barra (around 2lb each), a large 3lb fingermark which fell off the lure into the tacklebox and 3 small GT's.
We headed up the creek where I switched back to lure of the century, a deep diving gold bomber. There I hooked a small mangrove jack and a 3lb threadie which made it most of the way back to the boat before expertly de-hooking itself.
Next thing we spotted in the creek was a small saltwater crocodile. We had seen a number of crocs throughout the week, but for some reason Simon decided it was time to try and catch one. "Mick, how do we hook into one of those?", was the call and whilst Mick was reluctant to have anything to do with it (probably for fear of getting bitten) he told us to lob our lures into the mud in front of the crocodile and see what happened. Simon did just that, and while the croc showed a little interest he did not grab at it. Simon leaned back on the stretchy monofilament fishing line to pull the lure out of the mud and when it became dislodged, it sprang straight into the back of the crocodiles head where it became firmly implanted. The croc was not a happy camper and tore off down the river, peeling 8lb line from Simon's reel. The croc did an amazing little jump out of the water and while I was scrambling for the camera ready for more action the hooks finally slipped and the croc got away. Probably a good thing too!
The fishing slowed for a while and we became a little despondent. We anchored the boat and invited Mick to fish with us, declaring that with the next landed fish we would crown the lucky fisherman "World Champion Angler". I hooked a beautiful little barra only to loose it as it threw the hooks on a jump. Simon lost a small threadfin salmon in similar fashion before Mick finally caught (and claimed champion angler of the universe) with a lousy stinking catfish. Hardly champion angler material! After that mighty effort Mick went back to "working hard", while Simon and I continued throwing lures.
Big threadfin started cruising down the river and at some point we were bound to hook one. What happened next is difficult to put into words, and I still get the shivers when I think about it. In similar fashion to the big barra, I worked my deep diving gold bomber lure all the way back to the boat only to see this truly ENORMOUS threadfin salmon engulf it at the boat. I stared in disbelief and my jaw nearly hit the gunnel. All I could splutter to Simon and Mick as they looked on in amazement was, "Hey, I'm connected to that!". Simon uttered some expletives (some sort of sentence including the words "that's my fish") and Mick quickly gave the command to up the anchor. Without hesitation the fish turned tail and on feeling the hooks went on the fastest and most awe-inspiring run I've ever experienced. Ten pound spiderwire line disappeared off my spool rapidly and in seconds I was seeing some very new-looking line about a third of the way through the spool as the fish was about 70 meters away and still cruising up the river at a rate of knots.
By now (about 15 seconds after hook-up) Simon almost had the pick up, I was shaking at the knees and Mick was telling me to relax as he started the outboard motor and we slowly gave chase, being careful to always keep tension on the line in order to keep the barbless hooks set. We scanned the river for potential snags, and having identified areas to try and keep the fish away from (not that I had much say in where the fish decided to go) I set about getting the giant creature to the boat.
Five or so minutes felt like about 3 hours and I breathed a huge sigh of relief and yelled in ecstasy as Mick Boga-clamped the fish in the bottom jaw and lifted him into the boat. The threadie was 120cm long and weighed 20lb - truly a great achievement on 10lb line and something I am unlikely to repeat. It was the highlight of the trip for me. A picture of Mick and me with the fish is at the top of this page, and we took a couple of other pictures as well, me with the threadie, and the fish swimming away after release.
In the same spot I hooked and dropped a big barra estimated at 15lb (we saw it when it jumped), then I landed this beauty barra of 10lb. Clearly Simon was jealous! This fish was also photographed during release.
Simon kicked in with a great 12lb threadie of his own, rounding out for him his desires of good captures of GT, barra and threadie. He got the best GT by far, but I came home with the best barra and threadie of the week.
Later in the day I finished with a healthy 1 and a half pound fingermark at the same location.
Tally for me for the day (we didn't even fish the whole day) was an amazing 14 fish on lures - most of them big, quality fish. Of these 5 were barra.
25th October
This was our last day at Barra Base, and for me it started particularly early. I was having trouble sleeping and woke up not knowing what time it was (I later found out it was about 3:30am) and went for a walk down to the beach in front of the lodge. The tide was out a fair way, and I could see the schools of small barra feeding in inches of water only a few feet from the shore. I raced up the beached and grabbed my 1kg gear again and started casting. While I was fishing there, a large saw shark swam by (about 5 feet long) followed by a stingray and a could of shovel-nose rays. These fish were so close to the shore I could reach out and touch them. The inevitable happened, and a magnificent 5lb barra grabbed my little minnow just off the shore. There I was, one minute unable to sleep and the next alone at 3:30 in the morning on the beachfront trying to land a 5lb barra on 2lb line. I did finally land that fish after about a 10 minute battle, and I rate it as one of my finest captures ever. No-one was even around to see it, and the fish was so tired from the long battle that rather than go back to the room for the camera, I quickly revived and released him before he tired right out.
At a more sensible hour (around 7:3), Ron took us down to the jewie reef where I landed this tagged cod, and a medium sized whaler shark, both on bait.
I only landed one fish on lure during daylight hours on the last day and that was a small mangrove jack.
Total lured fish for the day was 2, with one barra.
We flew back to Darwin late Saturday afternoon (this time I was co-pilot in a Piper Navaho), tired and worn out but sad to leave and grinning from ear to ear with the success of our fishing adventure.
Summary
Other odds and ends from the trip included this fine display of local Tiwi art, and the material used, as well as this cast of a barramundi hanging over the bar.
All up I landed (on lures only) 80 and a half fish, hooked and dropped dozens more and had the most amazing fishing experiences of my life. The people were great, I made some good friends, and I can't wait to go again!