6th July, 1997
Stage 3 and 4 of MaclehoseTrail
Participants:
Picture Highlights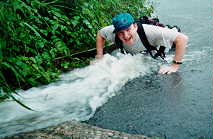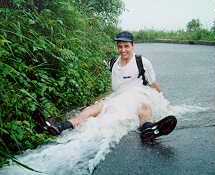 Yes, it was wet!
Other pictures from this day: Sark again, Shane again.
After a heavy chinese meal the night before and a bout of insomnia, a look out the window at 7am through groggy eyes reveled what appeared to be a rather fine day ahead. All seemed well for a planned long hike over stages three, four and five of the Maclehose trail. Those of you who came along last week got a taste of stage four (in the reverse direction).
Well it didn't quite turn out as planned. Chris, Sark and I set off on stage three around 10am, and after about a half hour into the walk, both Sark and I were feeling sick, for no accountable reason. We decided to push on slowly and see if things would improve. Health wise they sure did, weather wise is another story. To say that it rained on us would be something akin to saying that the crew of Apollo 13 had a spot of bother. Sheets of water dropped out of the sky about an hour into the walk and while it only lasted for around 15 minutes, it left all of us wet through.
Not to be deterred though, we soldiered on. Feeling much better now we were able to keep a steady pace, though it was far from normal speed as the extremely slippery conditions and intense concentration required to stay on your feet took its toll. Coming down the final hill on stage three both Sark and I took significant tumbles, with Chris (lucky bastard) Birrell somehow managing to stay upright.
It took us around 2:20 to finish that section, a good half hour off top pace. At the end of stage three (where we waited for the infamous Karl (you piss people off) Rodrigues last week) we sat down and seriously considered calling it a day due to the conditions. Insanity prevailed and we set out on stage 4.
The hike up Ma On Shan was fairly regulation but for one incident. It seems that that stretch from the Ma On Shan saddle to the end of stage four is destined to lead people astray as Chris managed to find a new piece of track that he thought was part of the trail. As he was leading at the time, Sark and I were unaware that he was no longer in front of us. Given that for the other hills during the day we were catching Chris on the uphills, we decided to pick up the pace and join up with him. The faster we went, the further away he was getting, though we didn't know it at the time. Ten minutes or so later, with no Chris in sight we worked out what had happened and figured he would too, so we waited at the Ma On Shan saddle and he turned up soon after.
The sky cleared momentarily, giving us a fantastic view from Sai Kung to Sha Tin Racecourse. A black and yellow toad made an appearance, the first I have seen in HK, and quite a colourful specimen. A couple of hours and another soaking later saw us walking down the long stone staircase about three quarters of the way through stage 4. The pace slowed drastically as we had to contend with a herd of twenty or so cattle on the narrow pathway. Dealing with the cows and calves was no big deal but the couple of bulls had us scrambling past with quickened heartrates.
After reaching the Gillwell Campsite we decided to complete the first kilometre or so of stage 5 so that we could finish on Fei Ngo Shan Road near the meeting place for hikers on Trailwalker. Chris managed to find another small detour here, but was soon with us at the road. There were a lot of people flying model gliders at this spot, and the weather was perfect for it. With no cab in sight, we had little alternative but to start heading down the long hill towards Choi Hung. Fortunately for us, a passing motorist in a van stopped and gave us a lift to the bottom. Like last week, the generousity that you strike from time to time rekindles your faith in human nature, and we were all very grateful for the ride.
All in all it was an interesting experience, and over the 25klms we did there were many intersting sights including some spectacular short term waterfalls that I guess we would never have seen were it not for the rain.
I will be planning another short walk soon, and hope to see you all there. The details will be forthcoming shortly....