20th July, 1997
Stage 1 and 2 of Maclehose Trail
Participants:
<NEW - See Allan's response to this memo at the end!>
Picture Highlights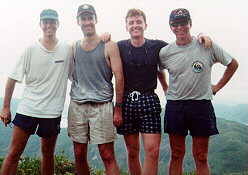 Atop the infamous hill on stage 2
This week saw the return of Peter, one of the members for this years team. Peter was one of the participants in last years event who successfully completed the trail in around 25 hours. Also joining us was Allan from Origin's fame in the Mid-Levels. If you're in the area, drop by the shop - there's a lot of neat stuff there. Chris is in Australia for a couple of weeks, hence his absence.
Any early start was requested and 7:45am found us all at Choi Hung MTR station, some a little more bleary-eyed than others. We were walking by 8:45 at Pak Tam Chung, and headed straight out around High Island Reservoir. For the first time in quite a while we didn't strike any rain on this walk, although the humidity was still very high and the heat was the worst I've experienced hiking so far this year. In fact in the first two hours I went through almost three litres of water!
Things progressed quite smoothly through stage 1 - there isn't much to go wrong and we reached the end of the reservoir road in a little of an hour and a half. Just into stage two I managed to find Hong Kong's premier slippery patch of steep road and was soon sliding down the hill on a piece of anatomy better suited to morning ablutions.That over with, it was back to walking up and over that nasty little hill after the monastery. Here we caught up with a group of three girls also training for Trailwalker, in fact someone in our group correctly pointed out that they had passed us in a taxi earlier in the day. Seems they had decided to shortcut stage 1 - fair enough!
The rest of stage two saw us soldiering on through the very hot and humid conditions with no rain to cool things off. At times it was quite slippery and wet and I believe Peter was also victim of one tumble down some of the uneven rocky slopes. Reaching the end of the 25klms, we mutually decided that stage 3 could wait for another day (as so often happens) and instead opted for a big feed and a couple of those delicious Crown Lager's at Pepperonni's. The girls we'd met joined us and a great time was had by all. Having a fresh change of clothes for the restaruant was definitely a good idea and I'm already looking forward to my next meal there.
The walk took us around 5:15, a time we think will improve with better temperatures and a little more training...
Early discussions have us considering Lantau Island for next week - let's see what happens!
Guday',
I am known to some of you as Allan and for the benefit of the others who dont know me why don't you call me Allan as well. So I would like to add a couple of things to Shane's excellent description of last weeks walk, my perspective so to speak.
First I would like to know who is the Sado who insists on such an early start after Saturday night fever ? They shall be punished in time.Second did you all know that Shane is a quite possibly related to some obscure species of two-legged mountain goat. Not only does he run up hills but he literally sprints down them, a most unusual death wish. Organisers of the Trailwalker are currently checking the rule book to see if this kind of method is acceptable as Shane doesnt actually set foot on the trail very much.
And when he gets a body itch he has been seen to slide on certain parts of his anatomy to get rid of it. When interviewed by CNN about this (distressing to other hikers) behaviour he mentioned that quote "I dont have time to arse about".
Thirdly while all of us were feeling the warmth of the day, going through about a litre of fluids an hour Sark was observed NOT to be sweating, which is very strange especially considering he is a fair skinned pommy, thus prompting an X file investigation. I think he is either a type of bionic automan or a eccentric holidaying alien who likes hiking in far away places.
Lastly while in Pepperonis later that day I was given much stick for ordering possibly the worlds biggest burger, a massive masterpeice 12 inches across and ten inches high. I only ate half of it guys so stop giving me stick. Besides I know you all wanted one as well.
Take it easy,
Allan