10th October, 1997
Stages 6, 7, 8, of Maclehose Trail
Participants: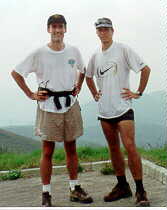 Peter and I on top of Grassy Hill
Well Peter finally made it back to HK this week after a 2 month work assignment in Bangkok. It typical team 526 style, we welcomed him back with a tough workout over the hills of stages 6, 7 and 8 starting with an 8am meeting at Sham Shui Po MTR. Whilst we (Peter and I) completed the three stages in a semi-respectable 4 and a half hours, dehydration and subsequent cramps were factors in slowing the pace a little on stage 8. It's amazing how a layoff for a couple of months lets you forget the effort required to prepare for an event like the Maclehose, but with 6 weeks to go (exactly) before the big day, I'm sure there's time for us all to reach peak physical condition.
Tomorrow night we have a walk planned for stages 3, 4 and 5 - a tough one. Chris has a bought of the flu so I'm not quite sure who's going to be there yet (except for me) but here's hoping...
My new Cannon IXUS got a workout on today's walk, and the above picture was taken using it and "the unseen walker".... as was this one when Peter was still all smiles reaching the top of needle hill <Peter on Needle Hill>.