Christmas 2001
Page 1 of 3
Story.
We began our Christmas 2001 at 7am on Saturday December 22 on the drive up to Lake Tahoe from Santa Cruz. On the way through San Jose we picked up Australian Rules Football legend John Ironmonger. Together we made the long arduous trip to Tahoe and even the most "snow accustomed" travelers experienced something new - putting chains on Shane's Ford Explorer and then driving the remaining 50 miles to our destination!!! The typical 5 hour trip only took 8 hours in snowy conditions - our friends that were about an hour behind were not so lucky and got caught when the highway closed for a short period of time. Their lovely drive took 10 hours!!
So the gang (once we all made it) included Troy, Alison, John, Shane, and Laurie. The 4 days we spent up in North Lake Tahoe involved eating, skiing, more eating, cards, and sleeping. Fairly stressful activities of course!! (Actually there were some very tense moments in a number of the card games, but Alison came out the overall winner it seems since the boys plotted and schemed against one another). There was no scurvy in our crew. We were treated to a pasta dish from John that last 4 days and many small meals for everyone. That's not to say he cooked it, rather he pilfered it from a work Christmas party. All the same it was an excellent dish and an excellent idea. Alison and Troy brought a ham up with some delicious special mustard. On Christmas Eve Troy and Laurie managed to take a quick break from skiing to come back to the chalet where the turkey was plucked, cleaned, stuffed, and thrown in the oven. Ok, it didn't need to be plucked. Our Christmas day dinner was really celebrated on Christmas eve - complete with Christmas crackers (not the edible kind), decorations, and napkins. The one very humourous moment came up when Mom Nason told Shane to get a particular cooking tool out of my stocking to use with the turkey. Well as it ended up, Shane had taken that particular item (the gravy strainer) out, wrapped it, and put it under our tree at home. He was apparently fearful that my stocking might overflow - DON'T worry, I gave him a crash course in stocking overflows - IT IS ALLOWED!!!
On Christmas Day Shane and I managed to drag ourselves out of the bed with flannel sheets (HEAVEN!!!) and take in our first ski on Christmas day. Actually before we made it to the hill, Alison and Troy had everyone open the beautiful stockings they had made up for each of us. After that, we made our way to the hill - each sporting a Santa hat that Mom Nason had sent back with Laurie from her recent visit in Toronto. After a half day of skiing we came back to join John, Alison, and Troy and opened our personal stockings to each other. We had a few more laughs when Laurie discovered a Spanish "PEOPLE" magazine in her stocking. Apparently Santa wants her to learn Spanish!!!
We left Tahoe around 2pm, but discovered Troy and Alison on the side of the road a few miles from the chalet experiencing car trouble. They ended up getting towed and we continued on our way home. The drive home was uneventful and only took around 5 or so hours. Once at home in Santa Cruz Shane and I settled down in front of our lovely tree to open our presents that came from all over the world - literally!! Presents from Australia, Vancouver, Toronto, and Switzerland!! We were very spoiled this year.
Laurie received a beautiful new housecoat/bathcoat and Winnie the Pooh PJ's from Mom and Dad Nason. Kelly sent us a crate of oranges and grapefruits from Florida, a Monet calendar and a beautiful cosmetic bag filled with lotions and creams. In fact I am driving Shane mad by calling the JOJOBA cream as the word looks instead of with silent "J's". I feel like some character from the latest Star Wars Movie every time I say Jo-jo-ba!! Mum and Dad Weeden sent a exquisite crystal vase and heart-shaped crystal container (for jewelry) along with honey and hand-made soap. Howie and Amber sent a CD (it is great!!), bike gloves (for the extreme rider) and sour soothers. Laurie's grandparents sent a pair of Joe Boxer pants down and a CD. Wenz and Mike sent a whole set of amazing ceramic sushi dishes and bowls and also included some cute stocking stuffers as well - Thank you!! Shane gave me the most heartfelt gift - a portrait of the two of us (the photo he carries in his wallet) done in charcoal medium by a woman in Milan. I also received an 8-piece cutlery set from him so we can now have a huge bash at our place!!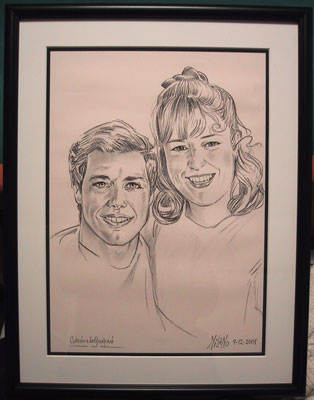 Shane received an amazing little 'all-in-one' weather station from his parents along with silk boxers and cotton socks with the Australian flag on them, and a collection of cards in a logic puzzle (as I type this he is madly sorting through them right now and reckons he has found an error in one of the answers!! I always feel that way too!). Colette and Brett sent over a trivial pursuit book and a beautifully made baseball hat with Gladstone embroidered on it. Mom and Dad Nason gave Shane and I flannel sheets, but they were particularly special because the theme on the sheets related to fishing and trout. Shane also received a BBQ mitt and an all-weather radio. Kelly sent Shane the usual - Truffes (Swiss chocolates) and he was ecstatic. What will he do when you are no longer in chocolate heaven Kel? Howie and Amber sent Shane a joint 30th birthday and Christmas present of the new version of Shane's flight simulator software. Laurie added to the many games that Shane had already received this Christmas by giving him Scrabble, Pictionary, and Uno in preparation for a Mum and Dad Weeden visit where the annual Scrabble championships take place.
| | |
| --- | --- |
| A sample of the traffic on the way up to Tahoe. This actually doesn't look that bad from a weather standpoint - it was much worse when the chains were put on the car with snow belting down. | A humourous result from the traffic - captured by Troy and Alison. |
| A great photo of the chalet we stayed at and it captures all the icicles hanging from the roof. There is about 2 - 3 feet of snow at least there. | Shane outside at night pretending to be in ice jail. He was actually out stacking our fire wood on the deck so we could easily access it from the house and not have to go outside. Can we say CONVENIENCE? |
| A wonderful present from Mom and Dad Nason that we were instructed to open on Christmas Eve. We read the book in the spirit of the evening and thoroughly enjoyed and appreciated that each page had a different illustration from years dating into the 1800's. Can you see my lovely orangey coloured ring I wearing from one of the dinner crackers?! | Laurie at the top of Diamond Peak Ski Resort where we skied each day. You can see the backpack I have on and will surprised to learn that the lunch sandwiches I carried in there for Troy, John, Shane and I were completely together until I stacked it going down the last run before lunch. |
| John horsing around with the Santa napkins that Alison brought. | The gang - from left to right - Troy Anthony, Shane, Laurie, John Ironmonger, and Alison McClure - at the dinner table on Christmas Eve with our turkey - or what is left of it. |